Divorce Law
From your first consultation to post-decree services, we guide clients through the entire divorce process with knowledge and compassion. Reach out to the Hightower Reff Law team today.
Contact Us
Committed Divorce Lawyers in Omaha
Our attorneys leverage their unique backgrounds and combined experience to offer the high-quality legal representation you need to move into the next phase of your life.
Our Process
When you trust Hightower Reff Law to assist you with your divorce or family law case, we do everything we can to streamline the process. While each case is unique, these basic steps are carried out for the benefit of our clients:
Contact us via phone, email, or text to speak with our Intake Specialist about your case. We'll pair you with the best-suited attorney.
Consult with your attorney over the phone during an initial consultation. Get your questions answered and gain a general understanding of what you are facing.
Retain Hightower Reff Law and your attorney. Paralegal will file the necessary paperwork to get the ball rolling.
Develop your case with the best possible outcome. This part of the process looks different in each case but generally consists of information collection, conversation, negotiation, and potentially a temporary hearing.
Finalize your case. Through settlement or trial, your case will be settled so that you can move forward in your life.
Types of Divorce Services
The Hightower Reff Law team is experienced in handling all types of divorce. We're able to provide clear mediation and other divorce services, no matter your circumstances. We're known for our skill, professionalism, and the results we deliver across a wide range of cases involving your children, finances, and other important interests.
Contested Divorce
Our divorce attorneys are prepared to help you navigate adversarial divorce proceedings. In the event that neither party can agree on how to settle the divorce, the Hightower Reff Law team will work to advocate for the results you want, from custody to the division of assets and beyond.
Uncontested Divorce
An uncontested divorce is similar to a collaborative divorce in that both parties agree on how the divorce should be settled. However, this process still typically involves the court system, and we're ready to guide you through every step.
Collaborative Divorce
When both parties in a divorce work together amicably and are able to resolve things out of court, the process is considered a collaborative divorce. The Hightower Reff Law team is here to facilitate these negotiations. Often, this approach is faster and less expensive than traditional adversarial divorce. Let us assist in making your collaborative divorce go as smoothly as possible.
other Divorce Services
Our team is equipped to handle every area of divorce law, including additional services like spousal support, alimony, child custody, and the division of assets.
Mediation
When you need a third party to facilitate negotiations for your divorce, Hightower Reff Law is here to help. We'll help you navigate the mediation process and advocate on your behalf no matter the circumstances of your divorce.
Asset & Property Division
Get clear, fair guidance on spousal support, alimony, and the distribution of marital debts and assets according to your specific financial situation.
Child Custody
Child custody is a major consideration in divorce cases with children involved. Our skillful, compassionate family divorce attorneys prioritize you and your children's well-being. We'll go above and beyond to help you establish a fair custody arrangement for your family.
Our Divorce Attorneys in Omaha
Get caring, professional advocacy when you work with our team of knowledgeable Omaha divorce attorneys. We're here for you every step of the way.
Frequently Asked Questions
How do I file for divorce in Nebraska?
The process of filing for divorce in Nebraska varies based on the type of divorce you're seeking and which court district you're in. Contact one of our knowledgeable divorce attorneys for a consultation to learn more about first steps.
Can I represent myself when getting divorced?
Self-representation in divorce court is legal in Nebraska, but is inadvisable due to the complexity of the divorce process. Even in collaborative or uncontested divorce cases, it's important to have an experienced attorney advocating for your best interests and guiding you through all necessary legal steps.
How much does it cost to get a divorce?
The average cost of a divorce in Nebraska varies significantly depending on whether it is contested or uncontested, along with several other factors. Hiring a local divorce lawyer will help you avoid certain potential complications, which can result in additional unnecessary costs. Contact the Hightower Reff Law team to discuss what expenses to expect from your specific case.
How long does the divorce process take in Nebraska?
The length of a contested divorce in Nebraska is typically six to 12 months. Uncontested and collaborative divorce cases usually take less time.
Connect With Our Divorce Attorneys
Need committed legal representation for your divorce?
Talk with our professional Omaha divorce lawyers today.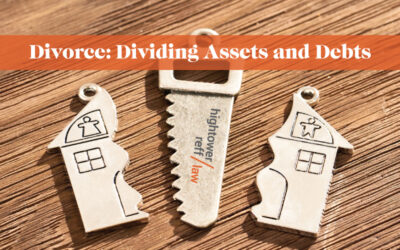 When you are contemplating divorce, one of the largest pieces of the process is figuring out how to separate your assets and debts. This part can be stressful and overwhelming but with the right support and an experienced divorce attorney helping you, it can be easily...
read more