Omaha's Divorce & Family Law Firm
Specialized Practice Areas for Your Unique Case
Hightower Reff Law handles all areas of divorce and family law. We prioritize your goals, care about your future, and have the local expertise you deserve. Reach out today to connect with our team and schedule a consultation.
Let's Talk About Your Case
Count on Our Experienced Team
We offer the comprehensive legal representation you need. With dedication, experience, and compassion, the Hightower Reff Law team is here to help you navigate your unique case. Let us advocate for you.
Comprehensive Divorce & Family Law Services
You only need to tell your story once when you partner with Hightower Reff Law. We pride ourselves on being an all-in-one resource for divorce and family law services. Learn more about our practice areas below!
Divorce
The divorce process is complex and often emotional. Hightower Reff Law's professional divorce attorneys are skilled in every type of divorce and in all necessary divorce services. We'll guide you through the entire process with compassion and professionalism to get the settlement you deserve.
Custody
When children are involved in a divorce case, custody becomes a major consideration. Whether you need to establish a custody agreement for the first time or modify an existing agreement, we're here for you. Allow our knowledgeable family law attorneys to guide you through your custody case with integrity and compassion.
Paternity & Parental Rights
Dealing with a paternity case, seeking child support, or needing general legal counsel on a parental rights or guardianship issue? Our team is extensively versed in paternity and parental rights cases and will be happy to assist you.
Adoption
The attorneys at our firm can assist with every step of the adoption process. We understand that adoption can arise in a variety of circumstances, and we can provide guidance on any and all types of legal adoption. We're here to simplify the legal aspects of this major life event so you can focus on your family.
Prenuptial Agreements
Considering a prenuptial agreement? Hightower Reff Law believes properly negotiated premarital agreements can help both parties enjoy financial openness and maintain their joint and personal goals in their future marriage.
Protection Orders
Whether you need to establish or defend against a protection or restraining order, we are prepared to offer helpful, straightforward legal advice. Trust our professional legal team to give you the support you need.
Surrogacy
Need legal advice for surrogacy cases? For support with surrogacy and egg donations, Hightower Reff Law can offer the strong, empathetic representation you need to protect your future family.
Our Process
When you trust Hightower Reff Law with your divorce or family law case, we guide you through every stage with professionalism and care. While each case is unique, these basic steps are carried out for the benefit of our clients:
Contact our Intake Specialist via phone, email, or text to discuss general information about your case. Then, we'll pair you with an attorney.
Consult with your lawyer over the phone to ask questions and gain a high-level understanding of what you are facing.
Retain Hightower Reff Law and your attorney. Paralegal will file the necessary paperwork to get started.
Develop your case. This part looks different for each situation but generally includes collecting information, negotiating, and potentially attending a temporary hearing.
Settle your case. Through settlement or trial, your case will be finalized so your life can move forward.
Our Divorce & Family Law Attorneys
Our small, specialized team of experts works together to provide personalized legal assistance to clients in the Omaha metro and its surrounding areas. The combined skill sets of our experienced attorneys make Hightower Reff Law uniquely suited to serve you in every area of divorce and family law.
Frequently Asked Questions
What is family law?
Family law is an umbrella term used to describe legal practice areas related to family and domestic issues. While divorce law is an aspect of family law, family law encompasses a wide range of additional legal practice areas including child support, adoption, parental rights, and more.
Can Hightower Reff Law handle multiple aspects of my case?
As a comprehensive family law firm, Hightower Reff Law can handle all aspects of your divorce or family law case, including post-decree services.
What counties does Hightower Reff Law serve?
In Nebraska, Hightower Reff Law provides family and divorce law services in Burt, Cass, Dodge, Douglas, Lancaster, Otoe, Saunders, Sarpy, and Washington counties. In Iowa, we serve Cass, Mills, and Pottawatamie counties.
Are there Spanish-speaking attorneys at Hightower Reff Law?
Contact Our Family Law Attorneys
Facing a divorce or family law issue?
Talk with our professional, compassionate legal staff in Omaha today.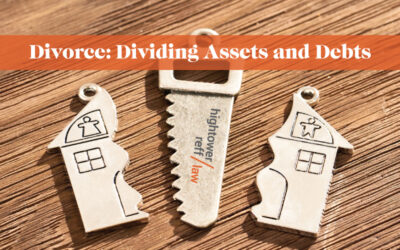 When you are contemplating divorce, one of the largest pieces of the process is figuring out how to separate your assets and debts. This part can be stressful and overwhelming but with the right support and an experienced divorce attorney helping you, it can be easily...
read more